to say I'm still alive! :)
CHA was amazing! I had a wonderful time! I arrived on friday afternoon at LAX where Christine from Treasured Memories picked me up. 
The workshops in her store the next day went great. Maybe a little to much presure to get it all done but everybody seemed excited and happy about what they had learned and created!
Thank you Christine, for all the good care and the fun and the stories about your Dutch roots. I had a great time, hope to come back one day!
On saturday evening Christine and her girls gave me a ride to my hotel in Anaheim and dropped me of with my bestie Nat Kalbach who was my room mate for the rest of the week. Loved spending the week with you girlie!!
I don't know about other people but for me the show was great!!
I attended some very interesting and inspiring workshops, found some great new products to play and work with, made some good new contacts, taught make-and-takes at the Prima booth and at Scrapbook Adhesives by 3L had dinnesr and drinks with a bunch of fun friends, did not make enough pictures and met a lot of people I only new from the message boards and FB. So nice to finally get to know them in real. Had breakfast at Starbucks every morning and way to little sleep, but i made up for that when I got home.
So, to make a long story short... it was awesome and I really, really hope I can go again next year!
Now, I can't show any of the projects I created for CHA since they first have to be up on the manufacturers blogs, but I have a layout that was posted on the Crafty Power blog (Scrapbook Adhesives) just before I left.
Imaginisces Hippity Hop paper line is fun, colorfull, fresh and happy! And they are teaming up with Scrapbook Adhesives this month!
It was a joy creating a layout with this spring themed paper and all the lovely extras! The doilies where sprayed with Tattered Angels glimmer mist Key Lime Pie and Trunk Bay/Dragonfly.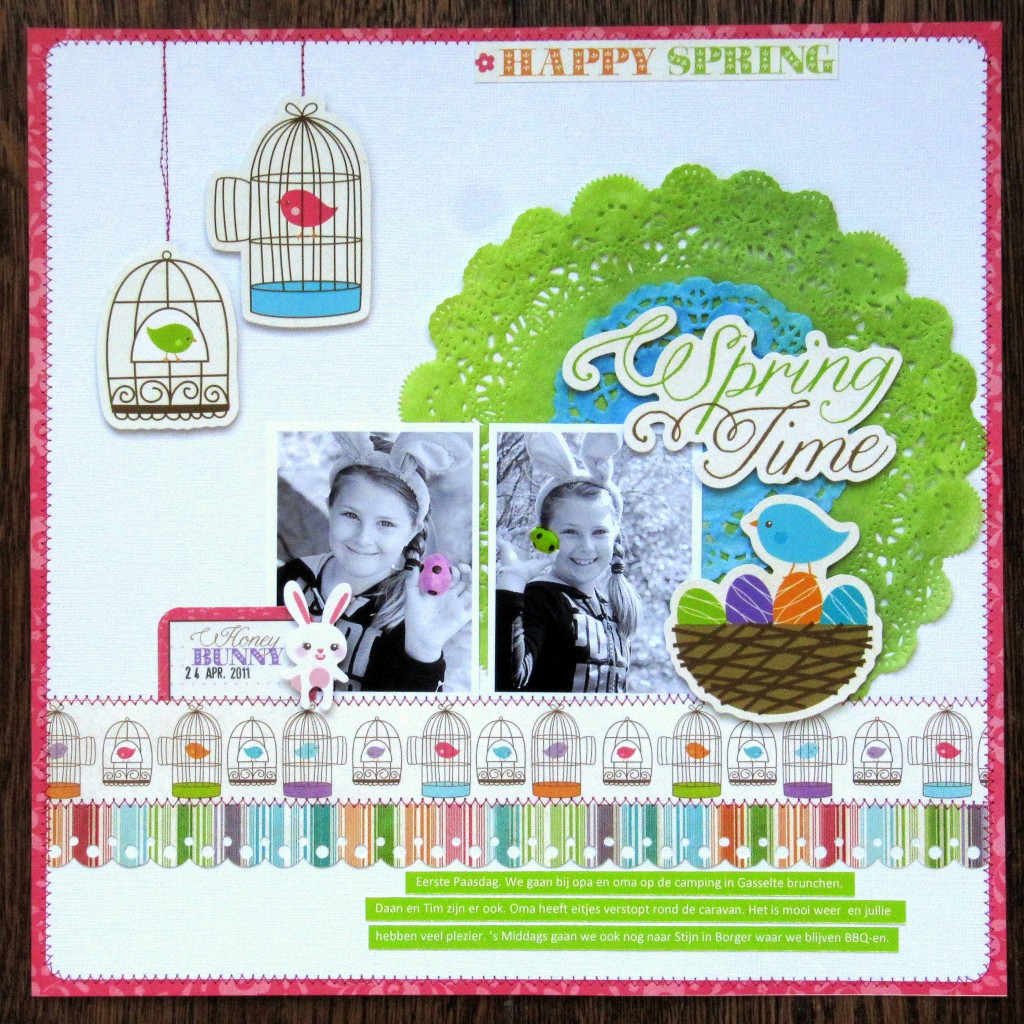 I used MyStik repositionable dots dispenser to apply the white cardstock to the background paper. It's always a little tricky to get such a big sheet in the middle of another sheet and using the repositionable MyStik allowes me to take it of and try again if I mess up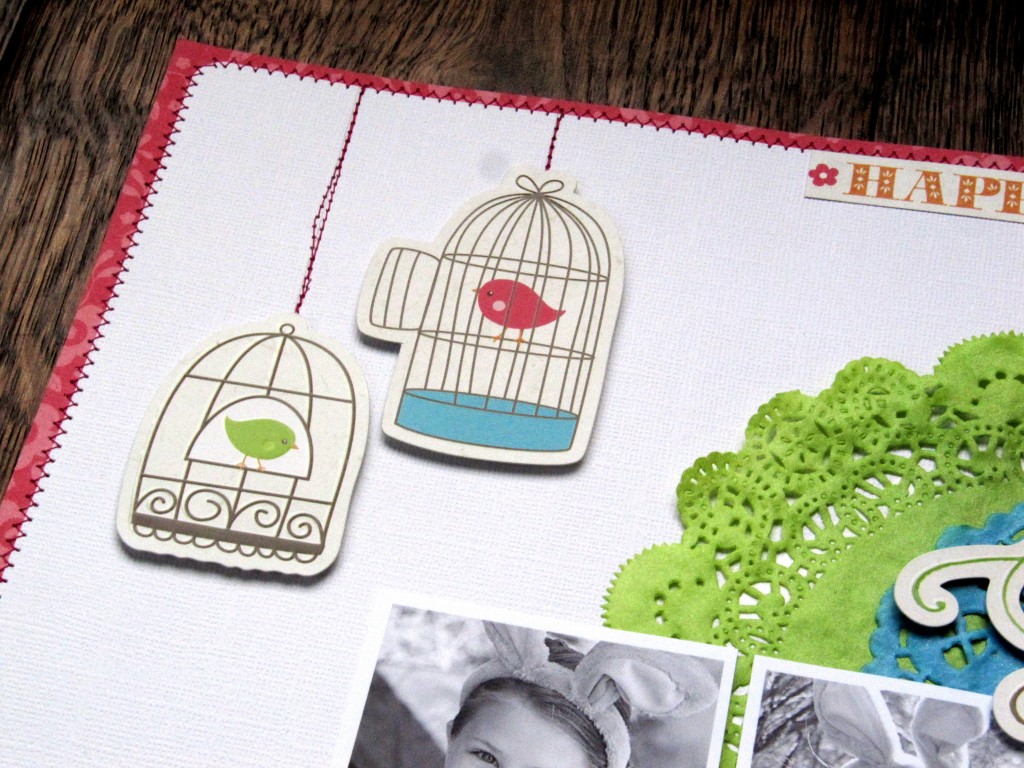 Since I was going to sew around the edges I didn't need to use permanent adhesive too. I you don't want to use you simply lift up the edges if the paper is in the right place and add adhesive using the MyStik permanent strips dispenser.
This last one I used for everything else, except for the birdcage, the little bunny, the nest and the title. For those I used Crafty Foam Tape.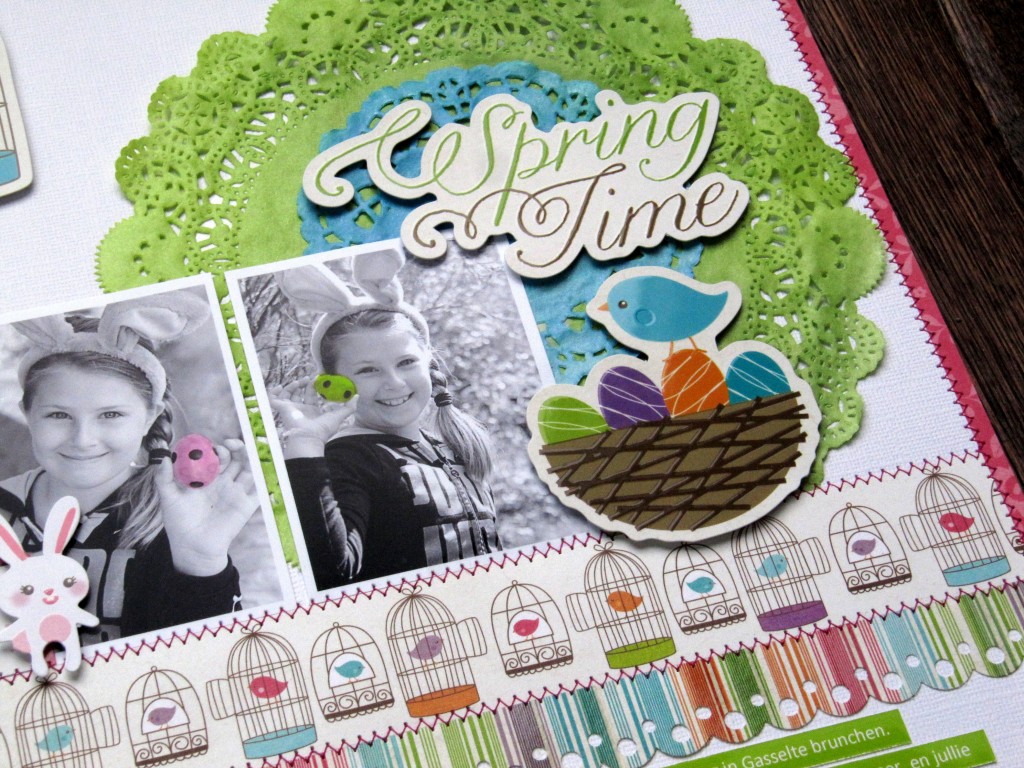 The colored text strips are made in Word. Open a text box on your page, choose a background color. Set your font color to white and type your text. Print it on photo paper (that will give you the brightest colors and a nice shine) and cut in strips.
If you don't have the skills or the tools to print a picture in black and white with just one part in color (just like me
) don't worry. I colored the eggs with Letraset Aquamarkers. 
That's it for today! Hope to be back soon!
For now I wish you all a lovely weekend, hope you create something nice while I'm preparing kits for Pour l'Amour du Scrap next week in Lille, France! Maybe I'll see you there! :)